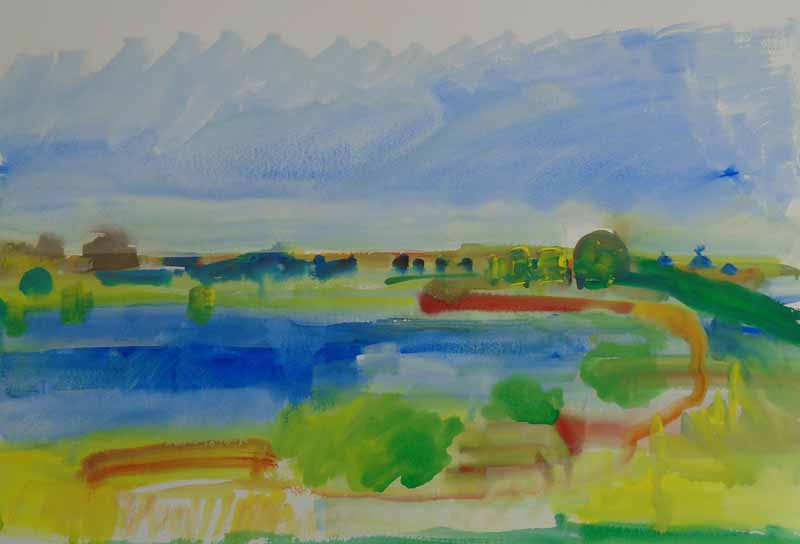 Landscape, gardens, buildings and still life are my main sources. Within these subjects infinite possibilities seem to unravel as the rhythms of life are sensed through them. Bold colour I relish and find it the most direct and dynamic form of communicating. I've been exploring Walberswick and the Cambridgeshire Fens, for the latter I sometimes travel out before dawn to experience the immense sunrise and uninterrupted light at that time of day. I take my bike out too and catch the late morning light which then flattens out by the afternoon. The winter is a wonderful time with grey skies, deep greens and light.
All the paintings are titled, with measurements included. Prices range from £350-£1600. If you require further information contact me on the email link provided or via Instagram, Isobel.Stemp39
***
Isobel Stemp's paintings of Suffolk reed beds, the East Sussex coast and the often wild flower-strewn chalk hills of Oxfordshire – as well as portrayals of the gently undulating, curvilinear, wood-topped Wimpole Way in Cambridgeshire – and the richly variegated terrain of the Cambridge University Botanic Garden in different seasons – are distinguished by an exhilarating freshness, subtle vibrancy of colour and dynamically spacious and innovative approaches to structure and composition.
She says, 'both of my parents are artists. My mother taught me all I know about gouache and watercolour, and this early familiarity with art has helped free me of all kinds of myths and preconceptions about painting. In my teens I grew to love Paul Nash's sense of place and love of the land in his work on the Wittenham Clumps and his painting of the Vernal Equinox. In terms of landscape now I am influenced by Scottish painter Joan Eardley. I am deeply inspired by artists such as Vuillard, Matisse and Picasso. Living for fifteen months in Australia, I was struck by the immense spirit of the landscape and moved by the paintings of Sydney Nolan and Fred Williams.'
Each of Isobel Stemp's pictures is as much a unique visionary inscape – or personal meditation – as it is a landscape or beachscape faithful to the ever-fluctuating rhythms and subtleties – and abstract harmonies – in the atmosphere of a particular place.
Philip Vann
(Philip Vann is author of a number of books on modern British and Irish art, and author of the critically-acclaimed Face to Face: British Self-Portraits in the Twentieth Century. He lives in Cambridge)
***
I studied the works of Paul Nash, a huge influence, leading me on to the Art Foundation course at Anglia Ruskin University. From here I went down the academic route studying Theology at Leeds University which culminated in a dissertation on Medieval wall paintings in Cambridgeshire and Suffolk churches. The direct linear quality of these paintings has played a significant part in my creative process. An MA at the Sainsbury Centre for Visual Arts in Norwich took me back to painting full time.
Isobel Stemp 2020